Regular price
£0.00 GBP
Sale price
£14.00 GBP
Unit price
per
Sale
Sold out
Cleanse and condition your skin with gently exfoliating Kaolin Clay and toning Lemon Seed Oil. The lovely light balm is perfectly formulated to break down oil, makeup and dirt, and leaves your skin cleansed, nourished and glowing. Squalane provides regenerative and antibacterial properties, while Shea Butter locks in hydration, with a dose of Vitamin E for powerful antioxidant results. With a silky texture and zesty scent. 
Ingredients

When it comes to what you put on your skin we believe the ingredients are the important part. So, why buy me? Because I contain all of these amazing plants...

Coconut Oil - This oil helps reduce inflammation, keeps skin moisturized and helps in heal wounds. The medium-chain fatty acids found in coconut oil also possess antimicrobial properties that can help treat acne and protect the skin from harmful bacteria.

Grapeseed Oil - Rich in Linoleic Acid (omega 6) which helps to tone and condition the skin.

Sunflower Seed Oil - Helps to even out skin tone due to it being rich in Vitamin E. It also works with the coconut oil at lifting away dirt and makeup.

Lemon Seed Oil - High in Linoleic acid and Oleic acid, both of which are great for rejuvenating your skin, but also help soothe inflammation and moisturise. The naturally high levels of Linoleic acid can help with acne prone skin.

Beeswax - Rejuvenating and protecting to the skin beeswax soothes with its rich mixture of vitamin A.

Shea Butter - Adds softness with hydrating Vitamin A.

Kaolin Clay - Offers gentle exfoliation and has skin toning properties.

Squalane - Regenerative and antibacterial, this soothes and conditions the skin with high antioxidant properties.

Vitamin E - This plant based Vitamin E is easy for your skin to absorb helping to retain the natural moisture in your skin and is a powerful antioxidant.

Lemon Essential Oil - Adds a beautiful zesty scent while toning and balancing the skin.
How to use

Massage gently into dry skin for a minute or two using small circular movements. Wipe away gently using a muslin cloth or flannel with warm water.
View full details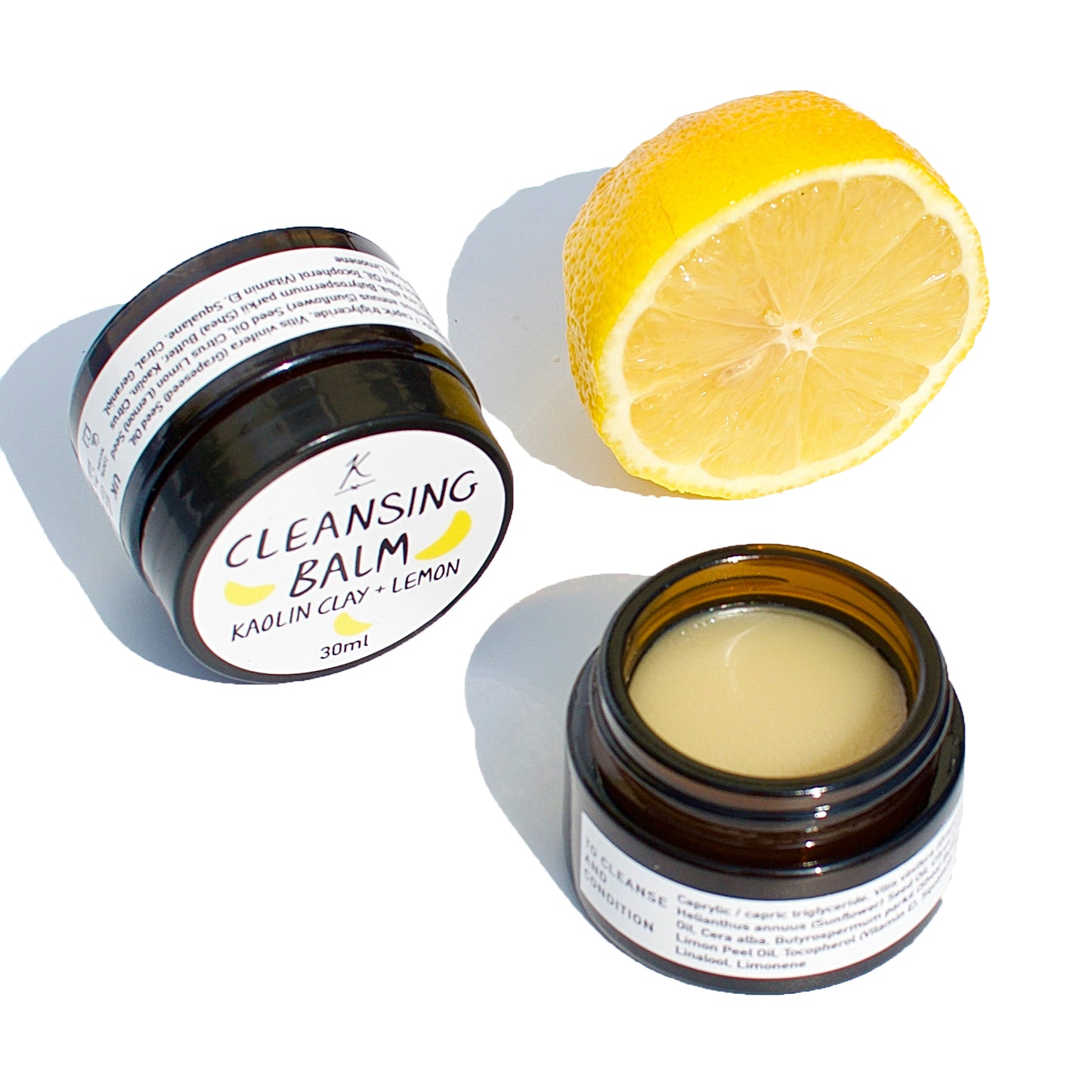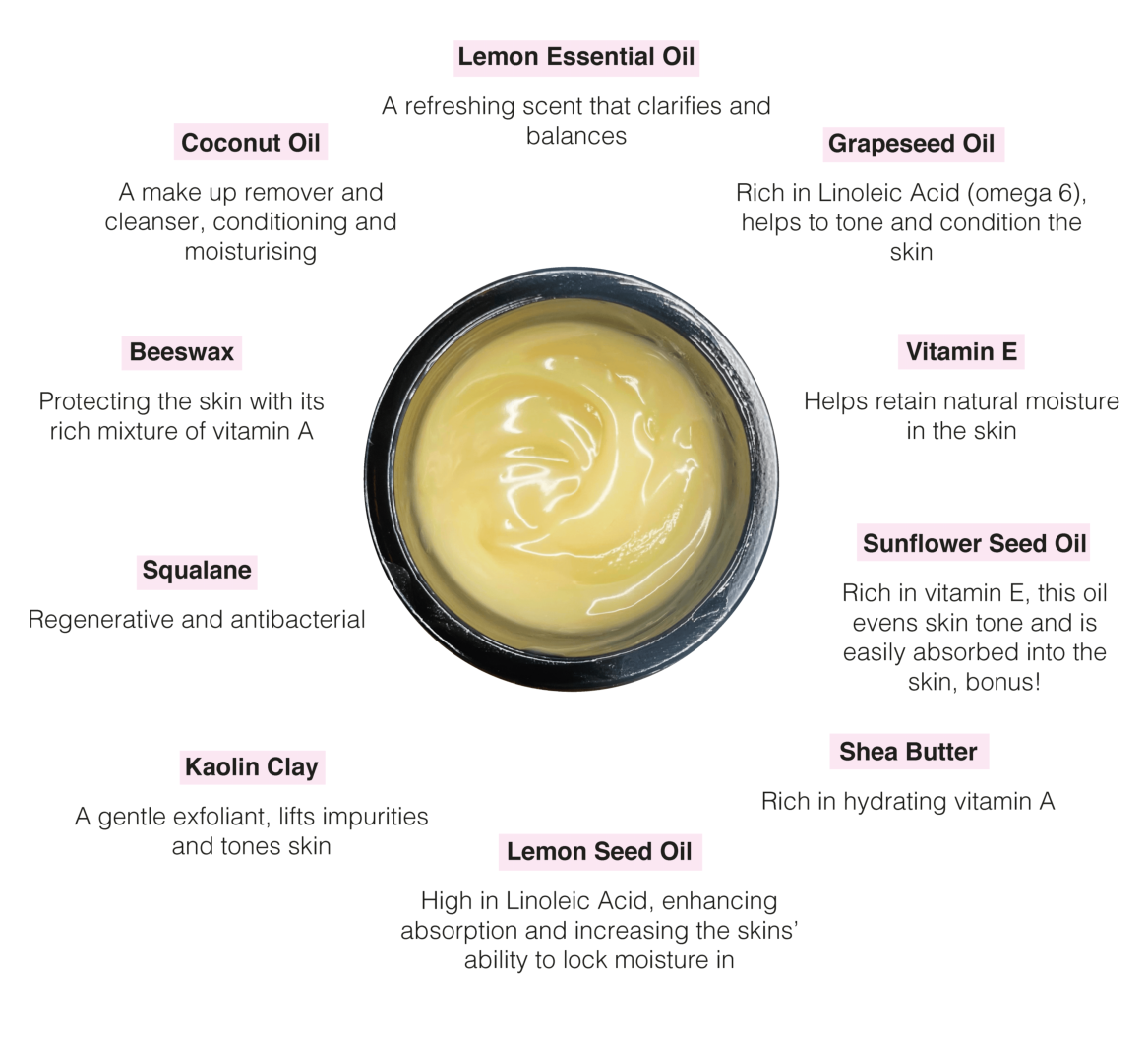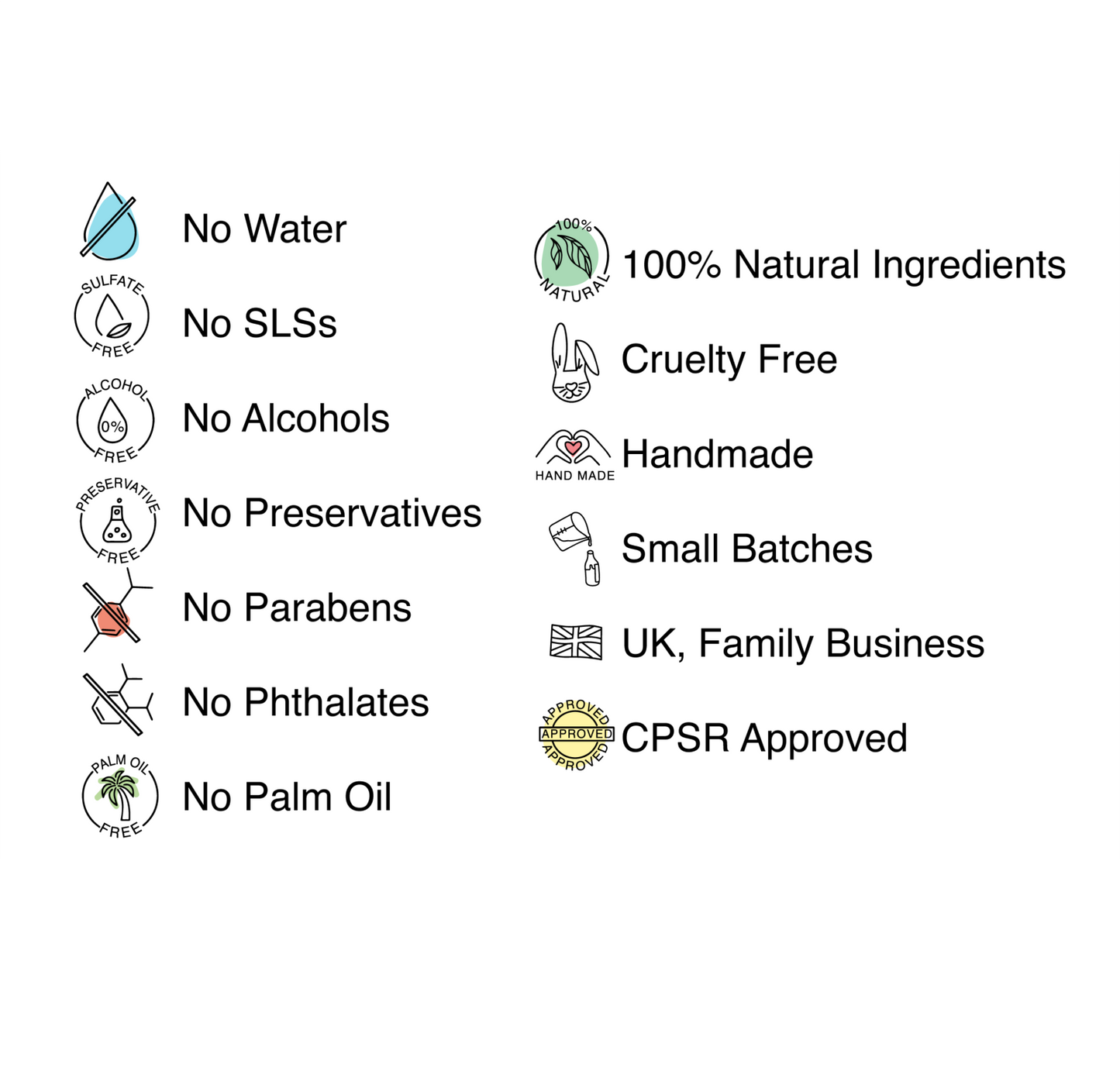 So lemony
Love this lemon cleansing balm. So soft and smooth and rich. The scent is divine. My face feels lovely after using it.
Love
Absolutely love it! Couldn't be without my kind oils now!
Luxurious
Beautiful lemon fragrance. Balm feels great on the skin, not greasy just perfectly moisturised. Will purchase again.
Fab products
Minimal packaging that can be recycled
Loving the cleansing balm and cuticle oil but all products have been great.
Thank you
The best cleanser
I absolutely love this cleansing balm. It feels like a treat every time I use it. It melts make up away so easily. Luckily, I've never had problem skin, but this balm has made my skin much brighter and healthier looking. My skin doesn't look so tired anymore, but thats probably all the kind oils products I use doing their job!!
Not sure what's best for you?
Drop us a message telling us about your skin an we'll reccommend products for you!
kind-oils@outlook.com