Regular price
Sale price
£15.50 GBP
Unit price
per
Sale
Sold out
 This Rejuvenating Rich Face Oil is packed with 9 skin-loving botanicals for hydrated and plump skin. Containing a rich blend of vitamins, antioxidants and omegas it improves skin tone, encourages healthy rejuvenation of skin cells and protects. With Sea Buckthorn Oil for an extra dose of antioxidants and Rose Essential Oil adding floral notes while toning and lifting the skin, this oil will leave you with a gorgeous rich glow. 
Ingredients

When it comes to what you put on your skin we believe the ingredients are the important part. So, why buy me? Because I contain all of these amazing plants...

Apricot Kernel Oil - This oil is light and easily absorbed into the skin. It's natural linoleic acid (omega 6) content strengthens the skin's barrier function and its oleic acid (omega 9) content softens skin and gives a satin-like feel. Packed with vitamins (A, B1, B2, B6, B17, E).

Sweet Almond Oil - This oil is packed with vitamins (A, B1, B2, B6) and protein with Linoleic acid - an essential beauty nutrient, helping to retain moisture and acting as an anti inflammatory to soothe and calm your skin.

Pumpkin Seed Oil - This oil is rich in nutrients and has excellent moisturising properties. It's especially high in zinc which helps improve skin tone.

Organic Avocado Oil - This oil is ultra rich and nutritious. It has been chosen for it's rejuvenating and regenerating properties that help to resolve skin issues. Packed with vitamins (A, B1, B2, D, E) and Linoleic acid.

Baobab Seed Oil - This intensely rich and nourishing oil is high in vitamin A providing rejuvenating properties.

Jojoba Seed Oil - This oil is most like our skin's natural oil Sebum which moisturises, nourishes and protects your skin, giving your skin a helping hand.

Rosehip Fruit Oil - Containing vitamin A this oil helps with rejuvenating your skin cells.

Sea Buckthorn Pulp Oil - Super high in vitamins and antioxidants this oil is deeply moisturising and rejuvenating.

Rose Absolute Essential Oil - Rich and floral with dark and dusky undertones, this oil adds a lovely fragrance while toning and lifting the skin.

How to use

Apply to clean skin, add 4-5 drops in the palm of your hand, dab onto your face and spread into your skin using gentle up and out motions. Finish by gently patting around your eyes. Don't forget your neck and décolletage area too.
View full details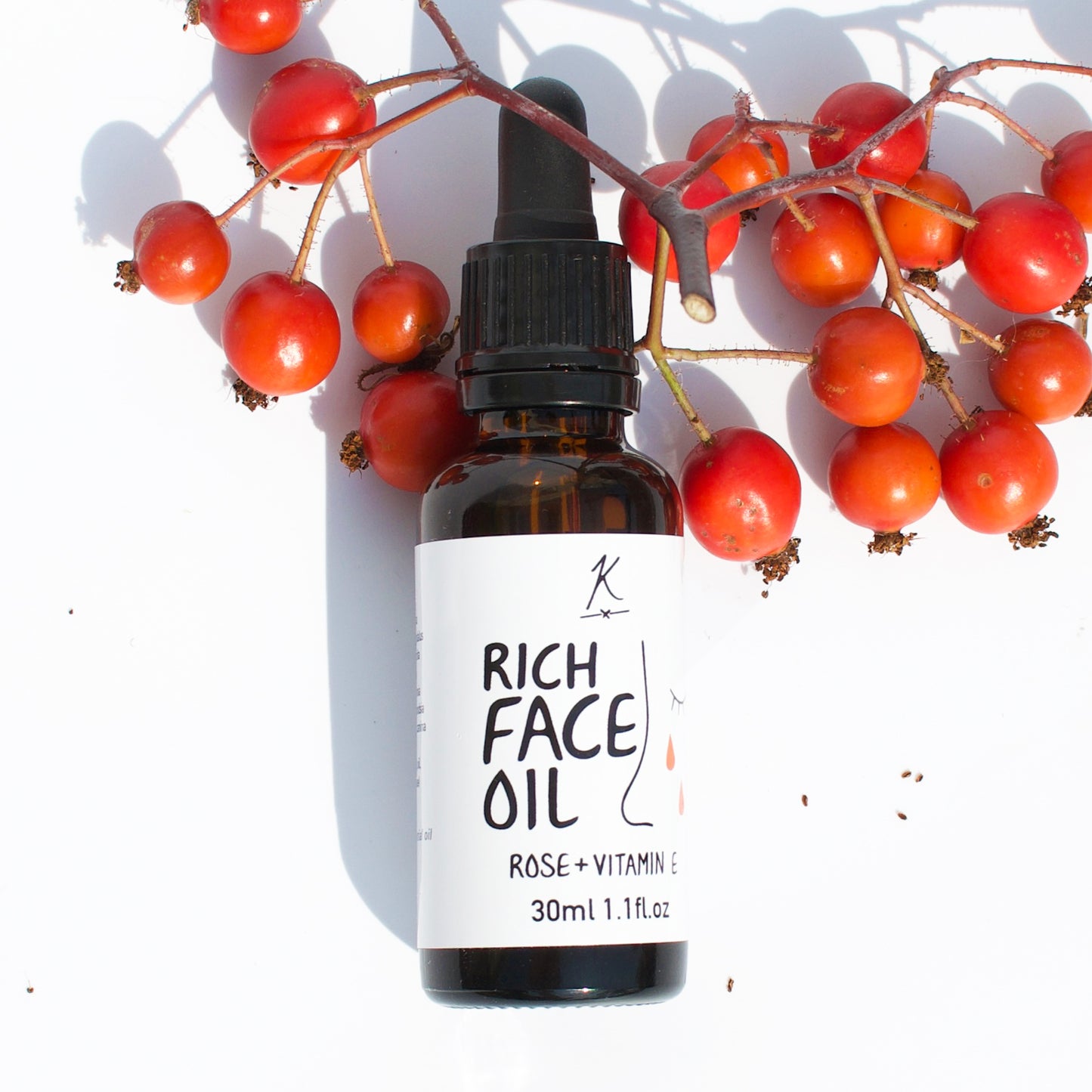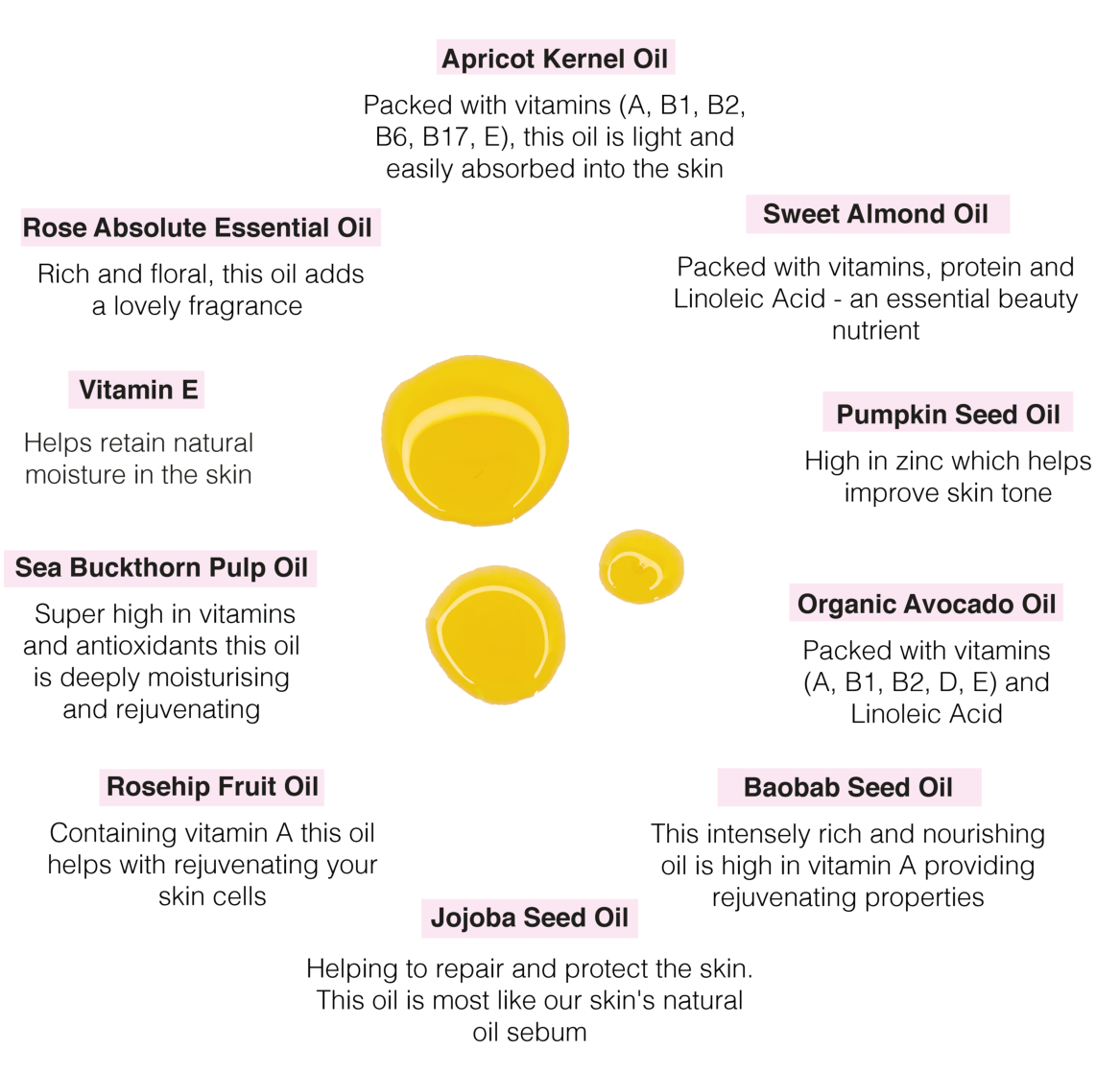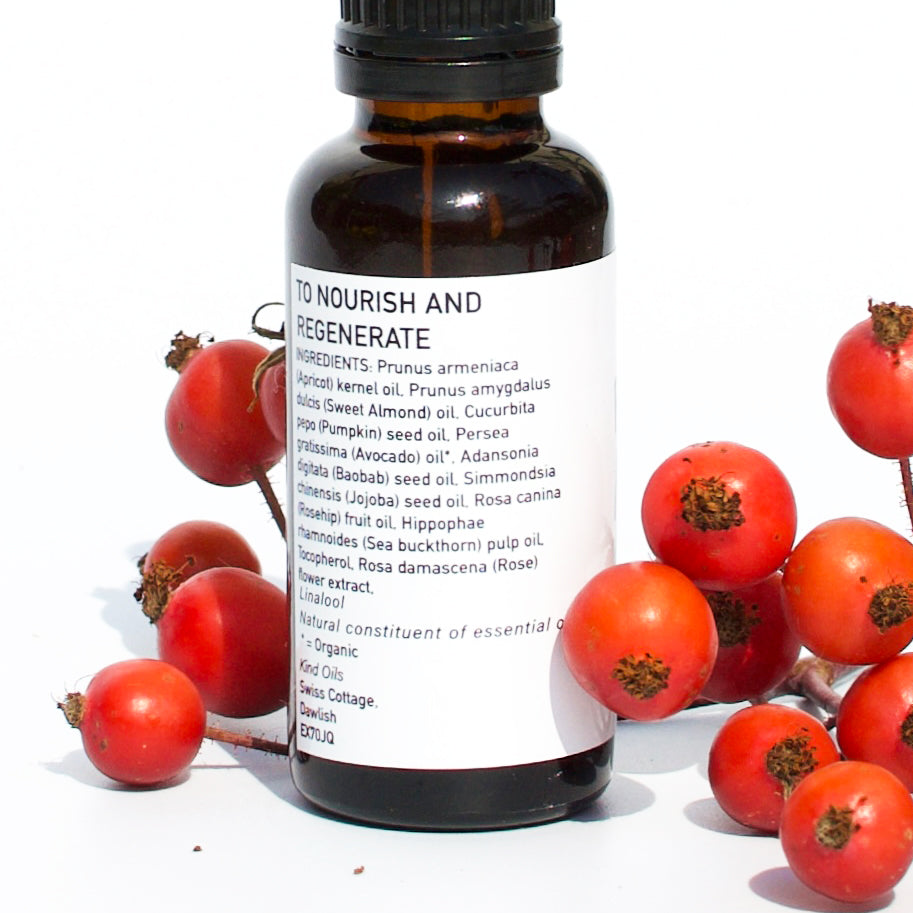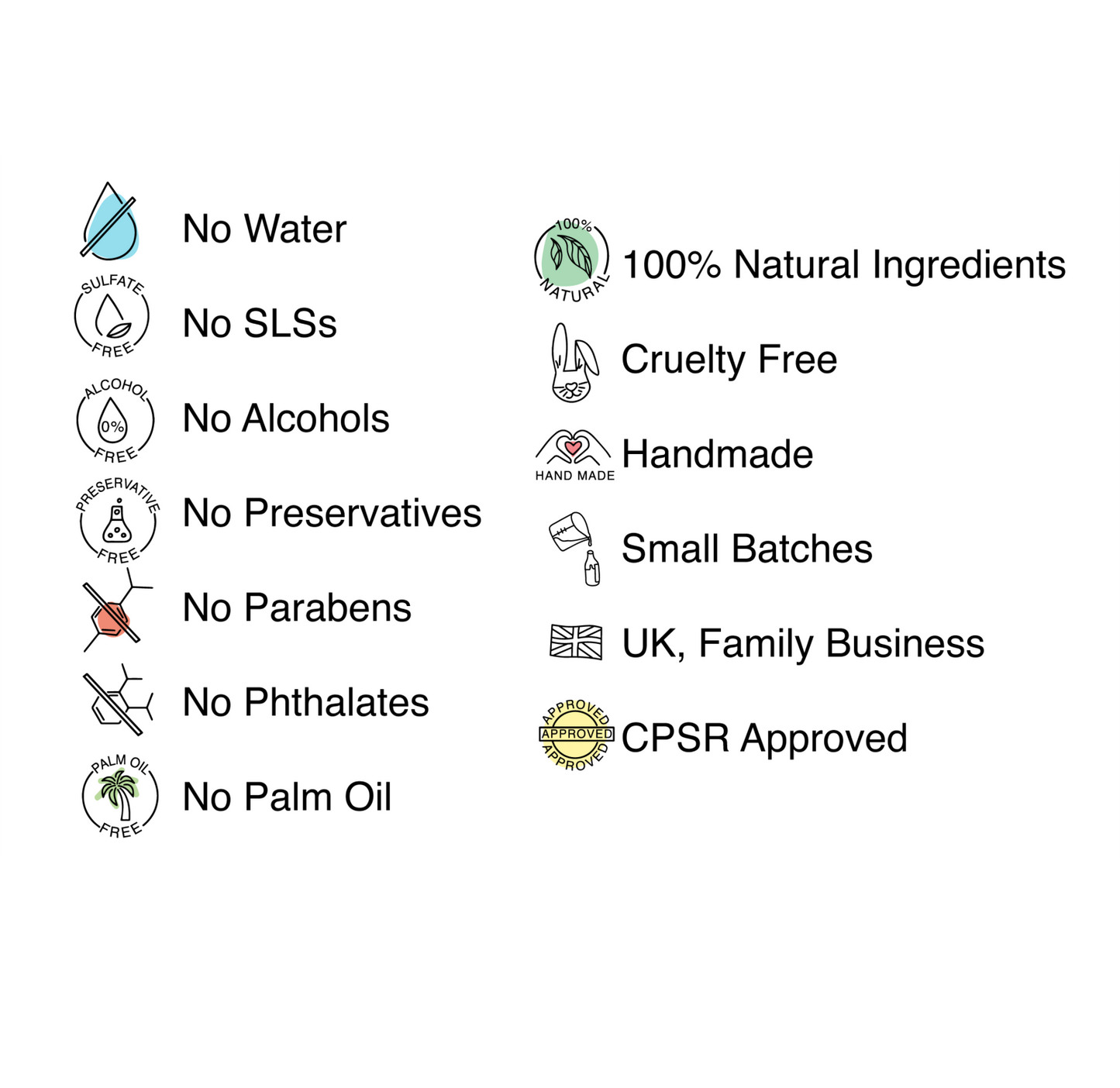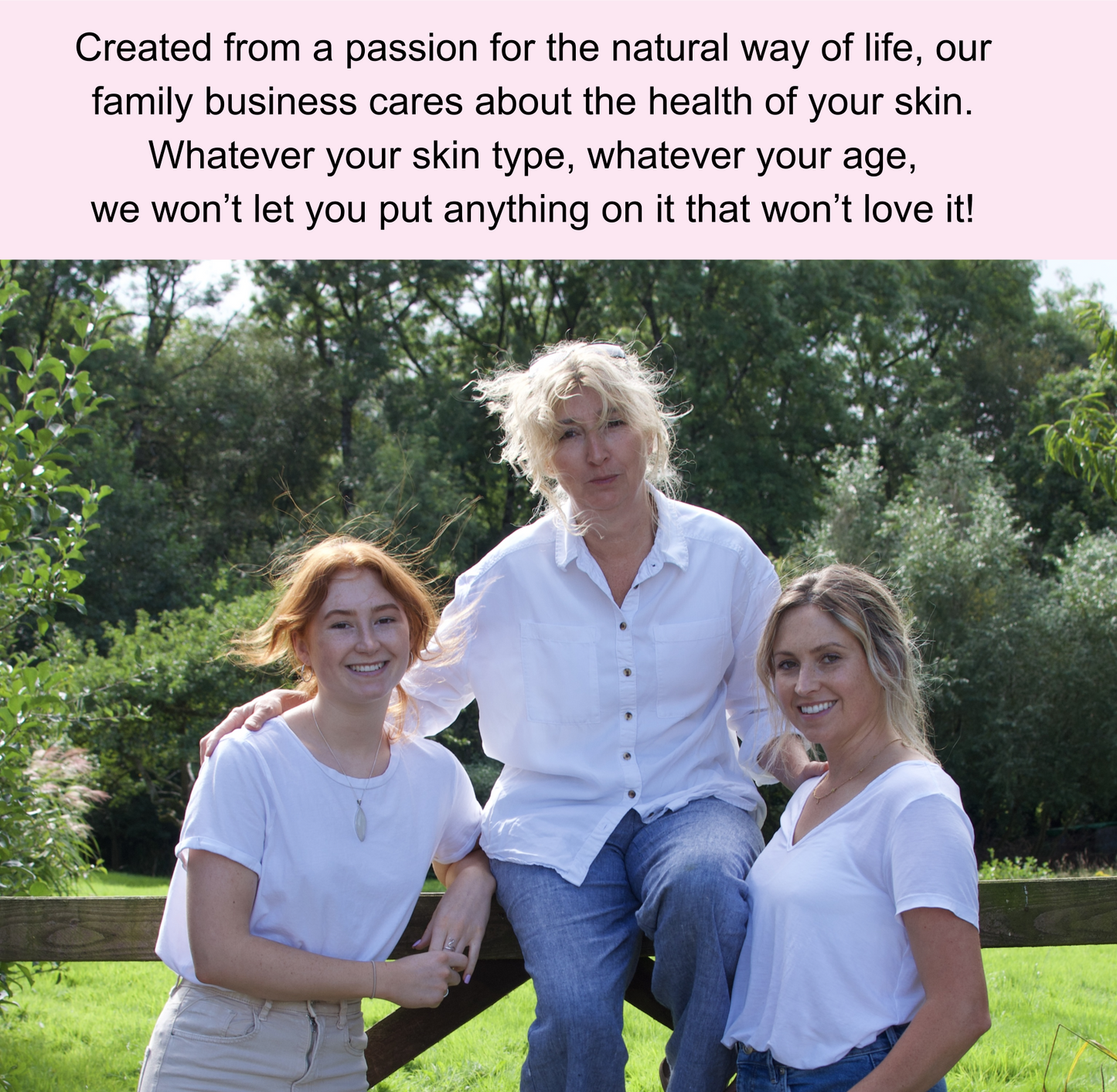 Works Wonders
I have been ordering this for about 2 years now- I love it, It is perfect for my changeable combination skin and keeps it soft and well moisturised which is why I keep coming back to it time and time again. Definitely feel it has helped with my mild rosacea too, keeping any outbreaks at bay.
Amazing
Thank you again, love this face oil so much.
Smells divine!
I adore this face oil. It smells amazing, and feels so gorgeous on the skin. I use it at night, and my skin feels and looks lovely in the morning. Highly recommended!
Such an amazing oil.
I really like to use an oil at night and have been looking for one to replace my previous one that is no longer cruelty free and have found the perfect product, not to greasy but so nourishing.
A miracle in a bottle
This oil is amazing. Just a couple of drops at night leaves my so soft and hydrated.
My new favourite skin care product
Not sure what's best for you?
Drop us a message telling us about your skin an we'll reccommend products for you!
kind-oils@outlook.com