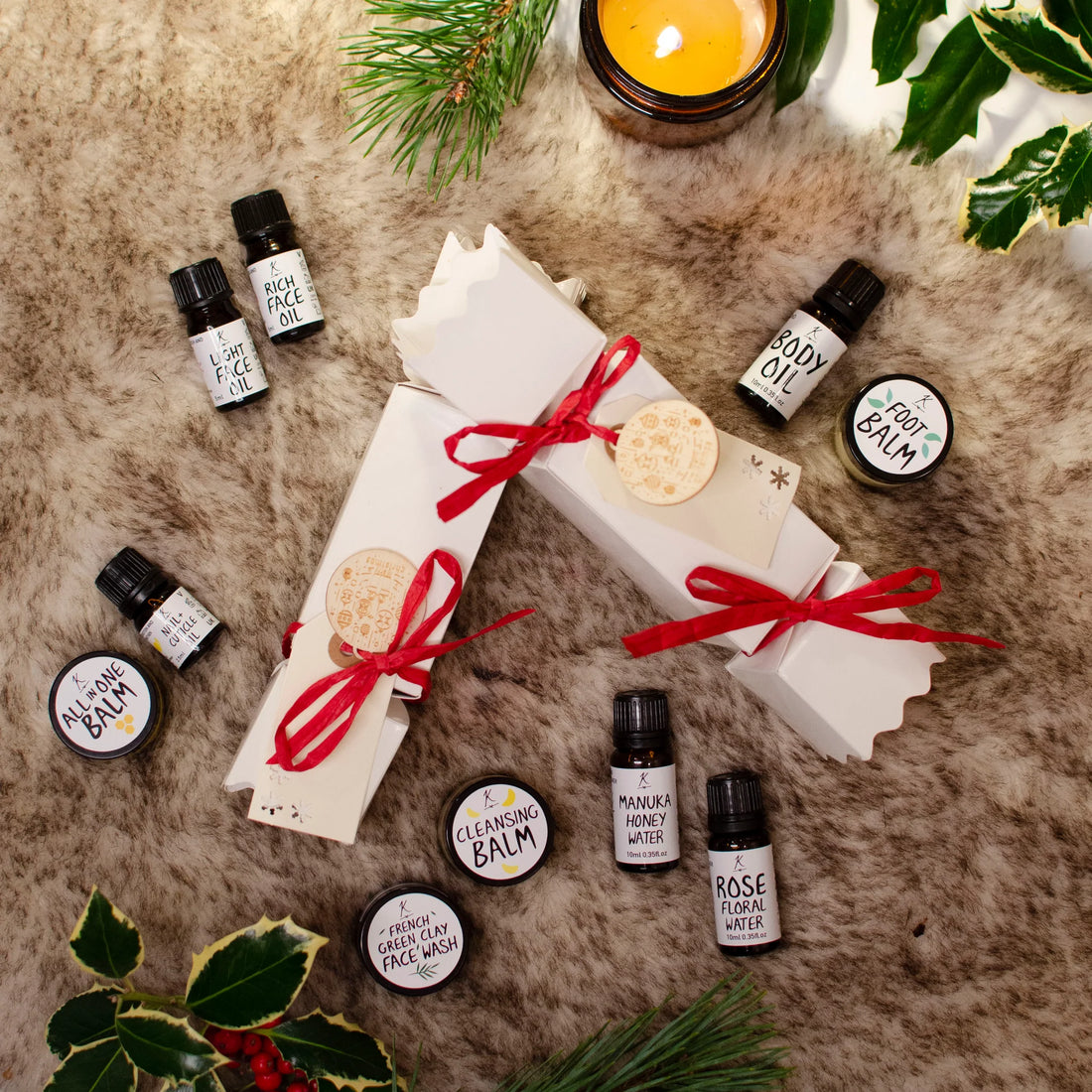 14 Best Skincare Gifts 2022
Christmas Gift Guide
If you're unsure what to buy for someone who you know enjoys skincare, whether it be a Secret Santa, or they just seem to have everything they'd need, you're in the right place. Below is a collection of fail safe gift ideas that are sure to win. Grab a few items and pop them in a box for the ultimate pamper hamper, use them as ideal stocking stuffers or treat someone to something special because they deserve it - we've carefully curated this list to suit any and all budgets and scenarios.
Most of the following products are from small businesses, so if you were looking for a reason to spend some more money on the extra little present for the pile under the tree, here's your reason: buying any one of these things will put a smile on not just the face of the person who gets to use it, but the person you bought it from too.
Read on for the 14 best gifts the skincare lover in your life will love as much as her skincare routine.
Stocking Fillers
Kind Oils, £15.50
Choose from a variety of mini products to fill these adorable sacks with. From body oils and butters to face oils and cleansers, there is something for everyone! Introduce someone to their new favourite skincare products for less than £20. Hang them on the tree or pop them in a stocking, they also make the best Secret Santa gifts.
Kind Oils, £12.50
If sacks aren't your loved one's thing, try these crackers instead. They make the perfect finishing touch to the bottom of a Christmas tree. Take your pick of mini products that guarantee to have the receiver's skin nourished and glowing.
Deluxe Skin, £15
Gua Shas and other face massage tools have gone viral on TikTok and Instagram and for good reason. They help to sculpt, tone and define the natural features on your face while massaging all the tension that clenched jaws and furrowed brows cause. Gua Shas work by encouraging lymphatic drainage resulting in more toned and firmer skin. If that wasn't enough, they also boost collagen and improve the effectiveness of skincare products by properly massaging them into the face. Any skincare lover will love this tool - you can also choose from a variety of different colours and materials including rose quartz, amethyst and stainless steel.
About the Glow, £17
Another viral skincare trend is dermaplaning. Exfoliate and remove unwanted hair and peach fuzz with these razors to help skincare products better absorb, smooth complexion, even skin tone and clear pores to say the least. They might seem scary but any skincare lover will be excited to get to it!
Jeune, £10
Normal candles are out and soy candles are in as they're non-toxic, produce insignificant amounts of soot and product no carcinogens. These candles make the perfect gift to go in any skincare pamper hamper or to stuff any stocking as you can choose the shape, colour and scent that you know the receiver will love. They also burn 50% longer than paraffin candles so it's just a sensible financial decision. Not to mention, with the cost of bills these days, we could all do with some more candles.
Boucleme, £12
Promote hair growth by boosting circulation, remove dead skin for a healthier scalp and a get salon level massage at home? Yes please. To be used in the shower with shampoo, one of these scalp massagers will fit seamlessly into the gift receiver's life as it doesn't take any extra time, but does take pressure off the fingers.
Gifts under £30 
Kind Oils, £28.95
Who doesn't love minis? Not only can you try all the products you could want in one go, they make the perfect travel size bottles to decant the big boys into. This collection contains all the ingredients needed to glow your way into 2023 and at the very least, they make beautiful additions to a bathroom shelf.
Kind Oils, £22.50
This Radiance Rose Petal face mask set is ideal for anyone wanting people to say 'you're glowing today' (everyone). The rose water soothes irritated and sensitive skin while the powder packs a mighty punch of vitamins C and E, both known to cause serious glow. Combined with the glycerin, weekly use of this mask will leave skin smooth, soft, hydrated and radiant. This set also comes in Clarifying French Green Clay version too if that's more up their alley.
Kind Oils, £30
Does what it says on the tin - create a spa experience from home with this spa in a box. Containing the Rose Petal Face Mask along with lots of other goodies, in this box is all you need for the perfect Christmas detox. Light a candle, have a bath and smother your body, face and hair in all the oils you can think of. If Rose isn't for your person, try the Lavendar Spa in a Box instead!
Kind Oils, £20.75
We know that Winter can bring along dry skin, but it doesn't have to and it certainly won't for whoever gets to use this body set. Nourish the skin with this luxurious body butter and lock it all in with the oil - packed with so many vitamins designed to soften, smooth and hydrate dry skin. We're so confident these will be loved that we've recommended you buy the big versions because they will only ask for more.
Kay Carter Studio, £21
This is for the one who loves her home decor. Ideal for popping all the aforementioned skincare on and therefore a great addition to any of the gifts mentioned above. What makes them even more perfect is you can customise the colours to perfectly match her bathroom, bedroom, living room, kitchen, porch or loft. These trays are your oyster, so to speak.
Gifts under £40
Kind Oils, £32
What do you get the couple that has everything? This couple's relaxation box. Including (but not limited to) a face mask each, foot balm for a foot massage and body oil for that back massage I'm sure they'll have been begging for. Relax, unwind and spend some quality time together on this pamper date night.
Natural Beauty Pot, £36
If in doubt, DIY gifts. They never fail as they're a fun activity that you get something out of! Not only do they then know exactly what's going into the Bath Bomb, the sense of accomplishment will make that bath even more relaxing. This kit creates approximately 12 bath bombs, making it truly the gift that keeps on giving.
Silk Works London, £35
Last but certainly not least, a silk eye mask will be sure to be loved by anyone who receives it. The silk helps to naturally hydrate, encourage sleep due to the blackout effect while eliminating the fine lines around the eyes from the pillowcase so they will wake feeling and looking revitalised and refreshed. This one comes in loads of colours too.
Let us know if you buy any of these and have a Merry Christmas!
Love, the Kind Oils team