Regular price
Sale price
£34.20 GBP
Unit price
per
Sale
Sold out
Skincare isn't one size fits all so create your own routine choose the products most suited to your goals. Choose from:
1. Cleansers
Purifying Face Wash This purifying face wash uses French Green Clay to draw out impurities and Tea Tree oil to kill blemish-causing bacteria. It's packed full of botanical oils that stimulate the production of collagen to keep skin plump and minerals to naturally rejuvenate the skin. This thick wash needs melting in your fingers before applying and is great to leave on while having a shower to let the goodness soak in.
Conditioning Cleansing Balm Cleanse and condition your skin with gently exfoliating Kaolin Clay and toning Lemon Seed Oil. The lovely light balm is perfectly formulated to break down oil, makeup and dirt, and leaves your skin cleansed, nourished and glowing. Squalane provides regenerative and antibacterial properties, while Shea Butter locks in hydration, with a dose of Vitamin E for powerful antioxidant results. With a silky texture and zesty scent. 
2. Toners
Brightening Rose Water Applied after cleansing, this multi-tasking toning water helps to balance your skin, for a brighter and more even looking complexion. Wonderfully calming and refreshing it ensures pores are refined and hydrated, while removing any final traces of cleanser to prepare the skin for your favourite face oil. An essential step in your skincare routine and it smells delicious!
Healing Honey Water Applied after cleansing, this toning water clarifies, rejuvenates and heals the skin. With a high concentration of antiseptic properties it fights off blemishes, tones pores and leaves skin feeling fresh and looking clear. Removing any final traces of your cleanser it prepares the skin for your favourite face oil and is an essential step in your skincare routine.
3. Moisturisers
Illuminating Light Face Oil Packed with 9 skin-loving botanicals for vibrant and healthy skin. Containing essential beauty nutrients and powerful antioxidants it locks in moisture, nourishes and protects your skin. With Linoleic Acid, Zinc and Vitamin E to encourage healthy skin renewal, brighten skin tone and feed your skin to keep it glowing and radiant. Deeply hydrating yet lightweight, it can be used under makeup and adds a beautiful dewy glow.  
Rejuvenating Rich Face Oil Packed with 9 skin-loving botanicals for hydrated and plump skin. Containing a rich blend of vitamins, antioxidants and omegas it improves skin tone, encourages healthy rejuvenation of skin cells and protects. With Sea Buckthorn Oil for an extra dose of antioxidants and Rose Essential Oil adding floral notes while toning and lifting the skin, this oil will leave you with a gorgeous rich glow. 
Ingredients

Please check out the individual product pages, or full size routine pages, for ingredient list.
How to use

1. Warm your cleaners between your fingers before massaging it over your face to remove makeup and impurities. Use a warm face cloth to wipe away.

2. Soak a reusable cotton pad with your toning water and wipe over skin to remove any last cleansing reside and refresh your skin.

3. Use 3-5 drops of your oil and massage into skin to reveal your glow.
View full details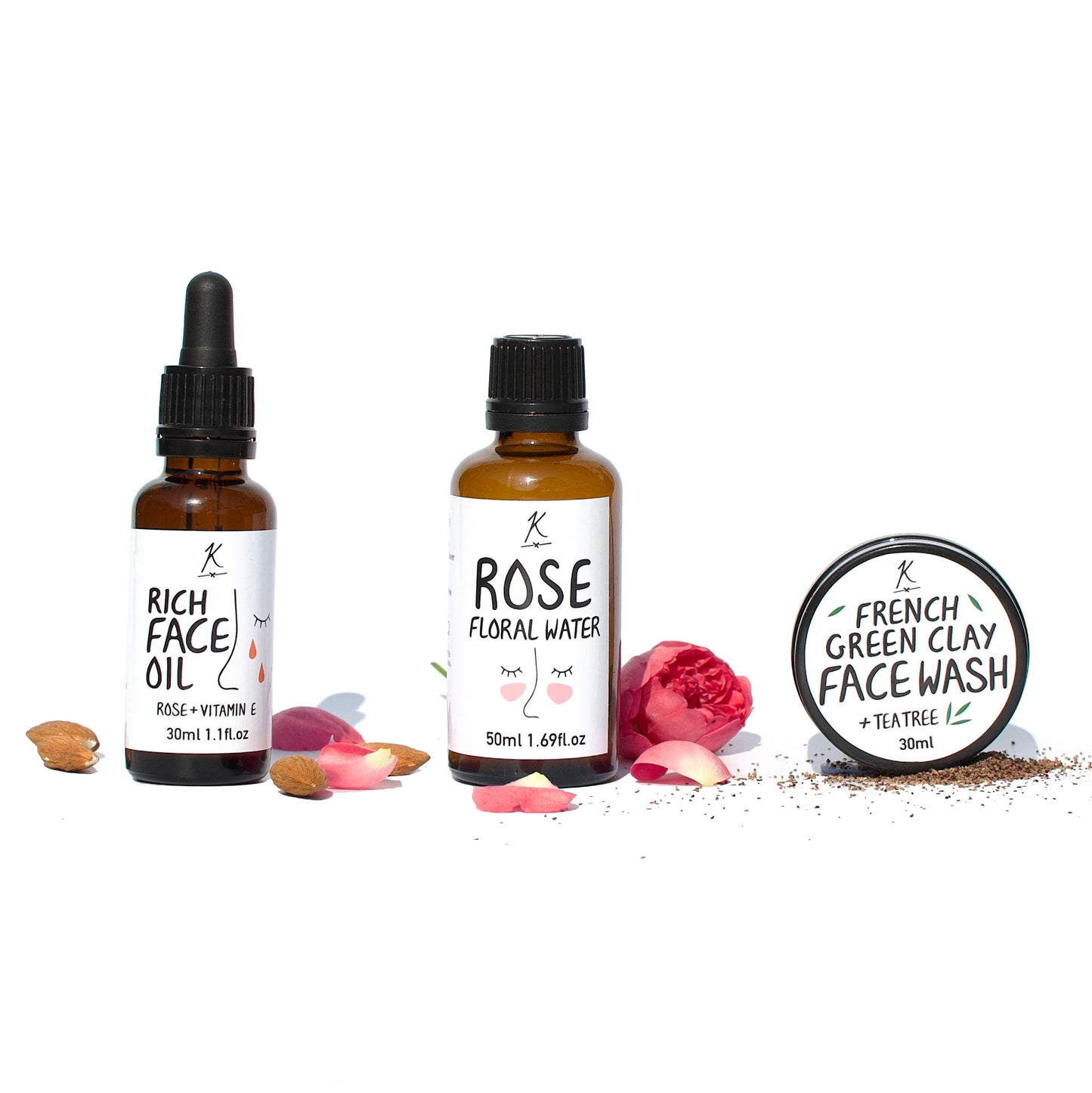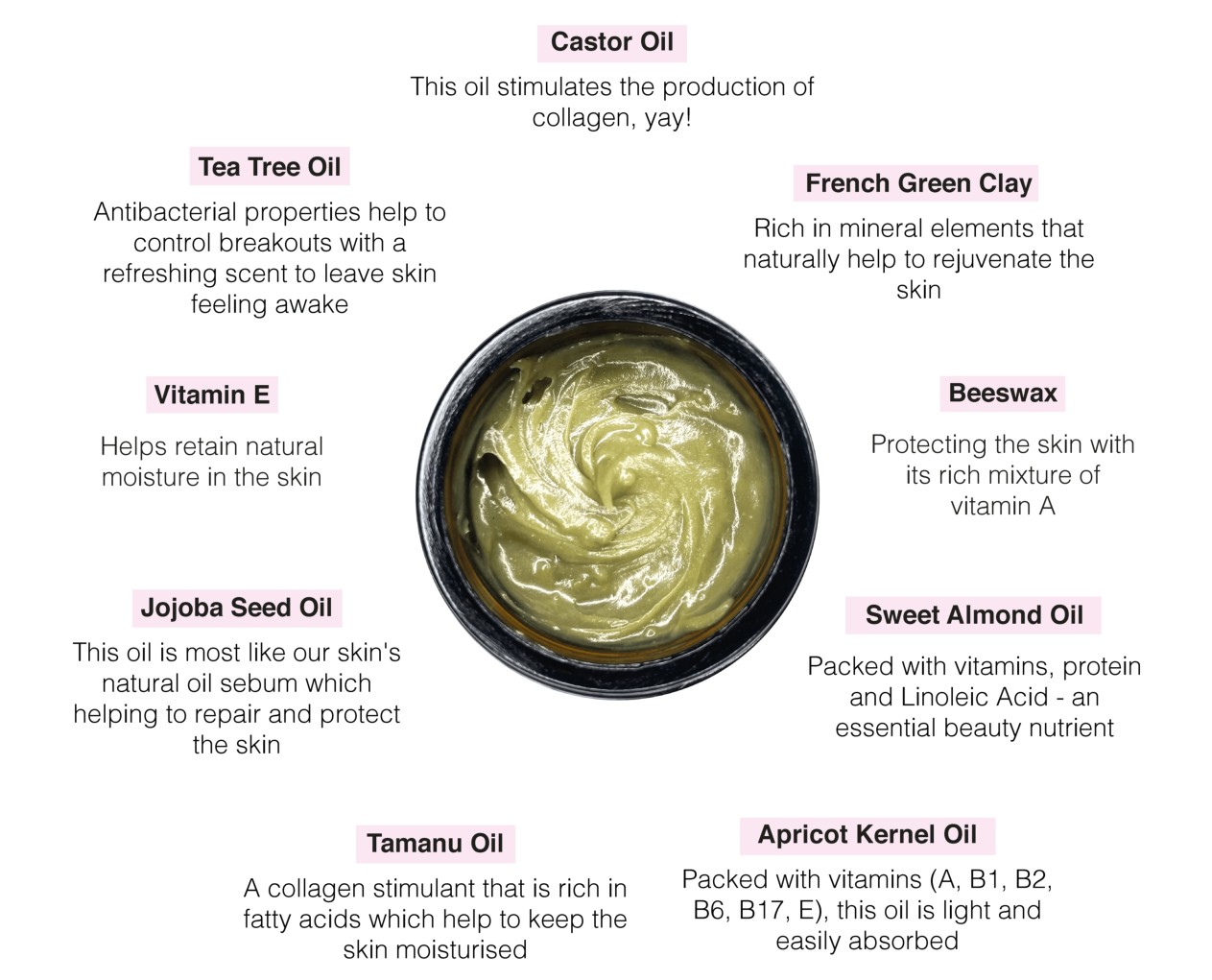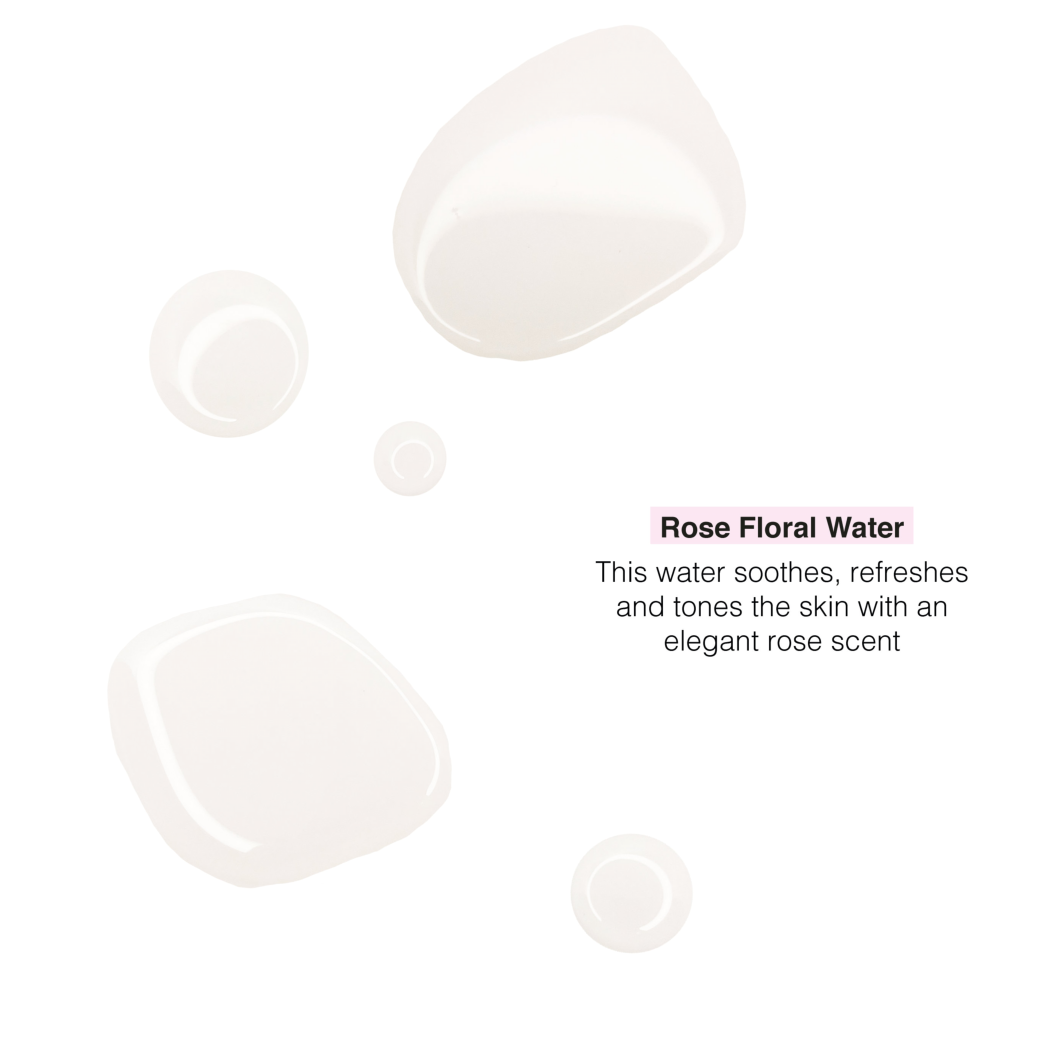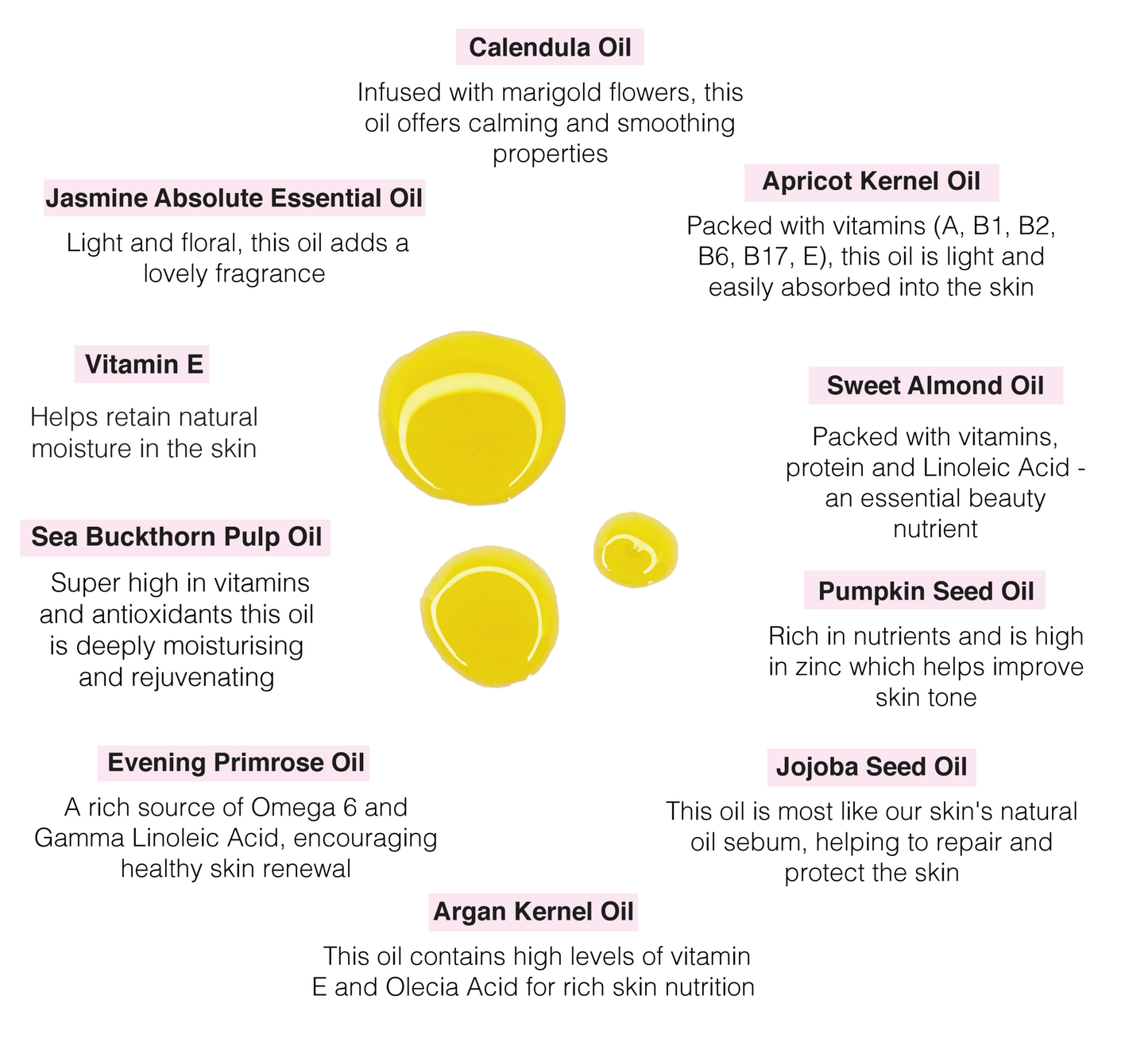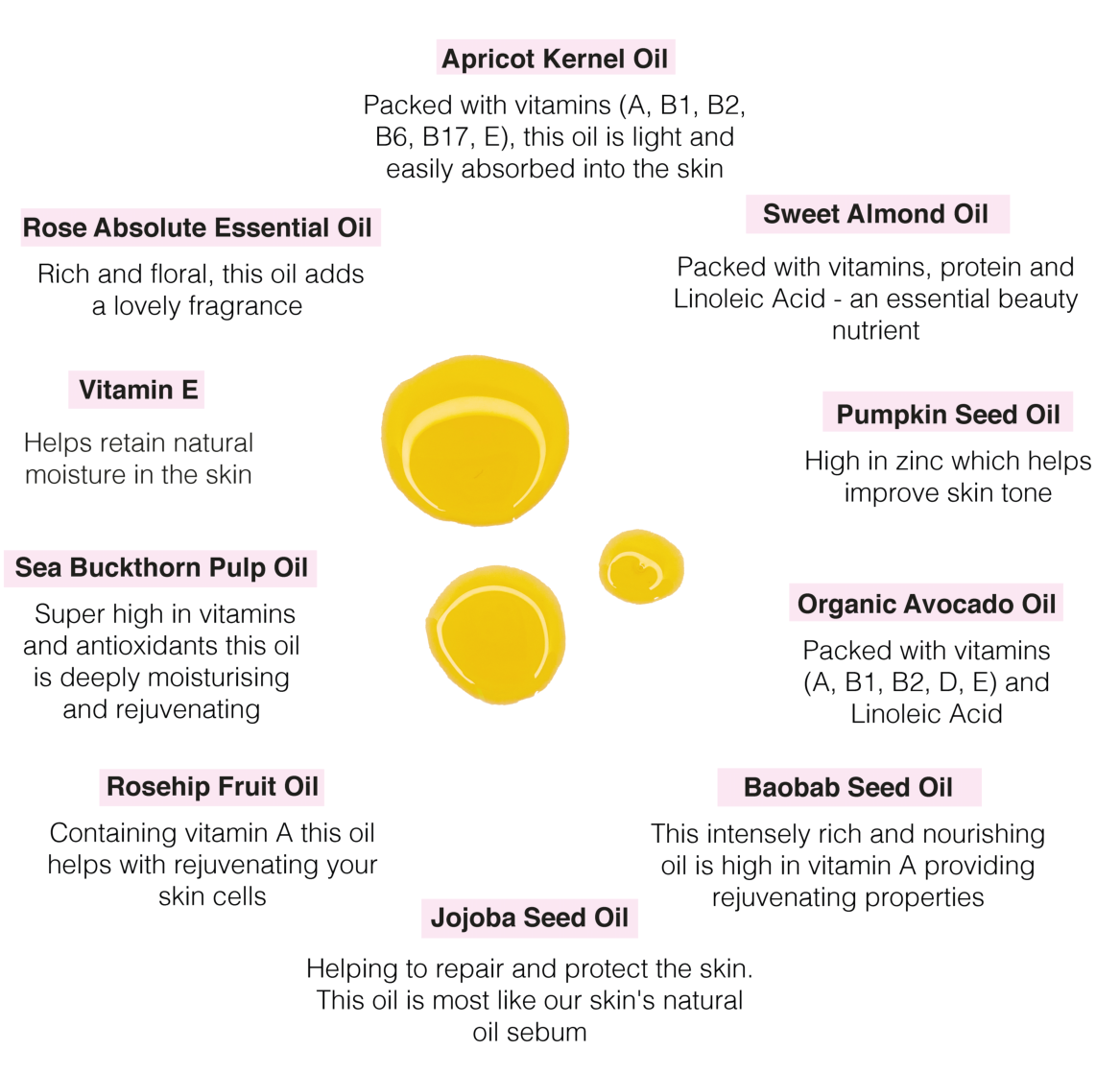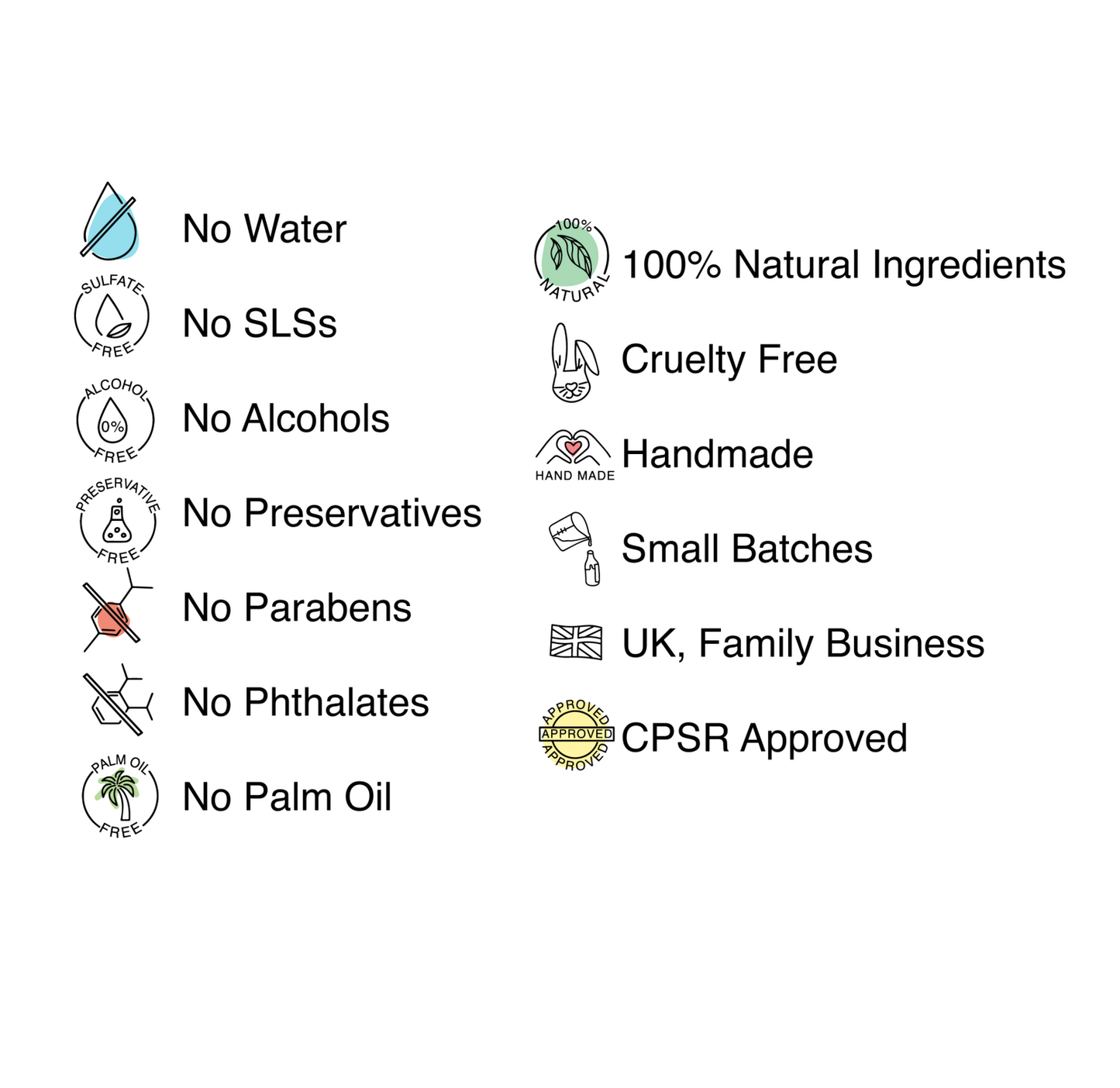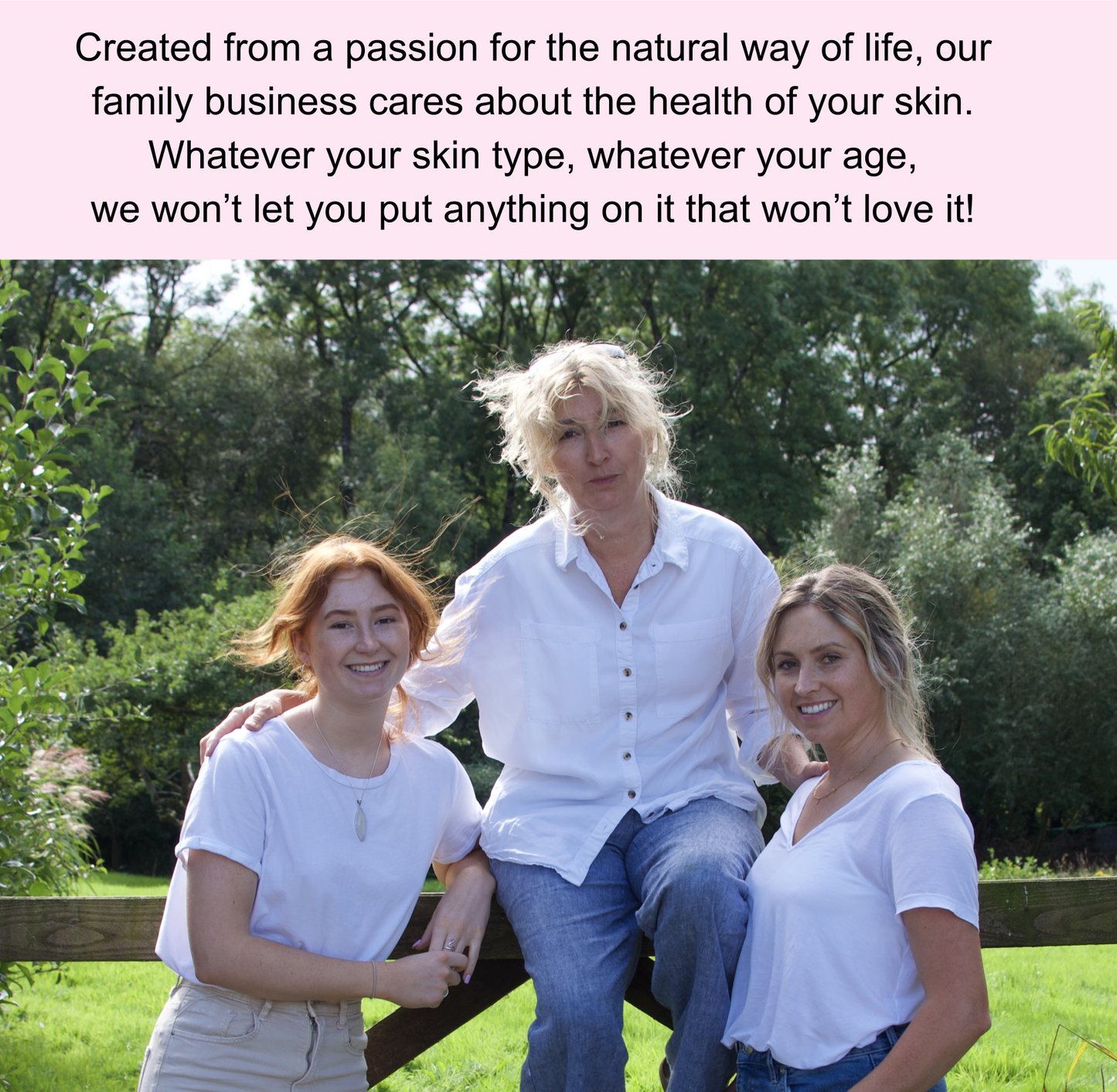 Best Skincare Ever!
I have spent all of my adult life struggling with my skin, either breakouts or oily or both. I've tried numerous luxury skincare brands with minimal success that have not been kind to my bank balance! Since starting to use Kind Oils my skin has been the best it's ever been, and considering I'm now perimenopausal that is no easy feat. The French Green Clay face wash leaves my skin feeling unbelievably clean and soft and I follow it with the Manuka Honey water which feels so soothing (my previous toner used to sting!). I use the Light Face oil for daytime and the Rich one at night, amazingly they leave my skin feeling lovely and soft but never oily. Thank you Kind Oils, I'll never look back.
Amazing product from an absolute dream team.
I stumbled a cross this product after a review from a friend. When I realised who it was steering the kind oils ship, I knew it would be a winner. As a busy Mummy to 3 boys with a hubby who's rarely home it's usually a wipe with a baby wipe to take off the last of my remaining make-up however this product makes skin care so simple. The products smell gorgeous and feel really luxurious but for a fraction of the price. Thank you so much for sharing your skin care secrets. I've already got my eye on a few other products and will definately be repurchasing when I have run out. Amazing products from some super ladies. 😍
Amazing products and service!
After years of trying different products on my very sensitive/reactive skin finding Kind Oils has been a revelation for me! Within a week of use my skin felt great and looked so much brighter. I finally feel really good about my skin, I won't be using anything else from now on 😊
Perfect face routine!
I'm not someone who makes time to look after my skin but I have fallen for this routine. The clay cleanser I love and its such a treat to use the bamboo facecloth to wash it all off...will be getting another in stock of those! The rose water toner and face oil is the perfect combo to make my skin feel wonderful. Will be ordering again and recommending to all!!
Fantastic Set
I asked for this set for Mother's Day as was perfect opportunity to try the products out. I absolutely LOVE them.
The green clay makes my skin feel amazing and clean, followed by the soothing Rose Water Toner and hydrating Light Oil. I cannot wait to clean my face on morning and evening. Cannot wait to purchase more products.
Not sure what's best for you?
Drop us a message telling us about your skin an we'll reccommend products for you!
kind-oils@outlook.com