Regular price
£0.00 GBP
Sale price
£8.40 GBP
Unit price
per
Sale
Sold out
Rich in Omega 3, Zinc, Antioxidants and Vitamin E this Healing Balm works wonders to soothe, protect and hydrate. From your hair, lips and toes use this wonder balm wherever and whenever you like. With Beeswax and a beautiful Orange scent Pop this balm in your handbag and know that your skin needs are taken care of for the day.

Ingredients

When it comes to what you put on your skin we believe the ingredients are the important part. So, why buy me? Because I contain all of these amazing plants...

Sweet Almond Oil - Packed with vitamins (A, B1, B2, B6), protein and Linoleic acid - an essential beauty nutrient - this helps to retain moisture, and acts as an anti inflammatory to soothe and calm your skin.

Calendula Oil - This oil offers many calming and smoothing properties.

Hemp Oil - Amazingly rich in Omega 3, attracting moisture and strengthening the skin. It's one of natures richest sources of polyunsaturated fatty acids which increase the moisture in the skin keeping it soft and subtle.

Pumpkin Seed Oil - Rich in nutrients and has excellent moisturising properties. It's especially high in zinc which helps improve skin tone.

Organic Shea Butter - Organic and unrefined this butter is rich and super hydrating containing vitamins (A,E,F) which are particularly helpful for damaged skin from pollution or sun.

Organic Cocoa Butter - This butter is rich in skin vitamin E and natural minerals to feed and soften your skin. It's unrefined to maximise the natural properties for your skin.

Beeswax - Rejuvenating and protecting to the skin beeswax soothes with it's rich mixture of vitamin A.

Sea Buckthorn Pulp Oil - Super high in vitamins and antioxidants this oil is deeply moisturising and rejuvenating.

Vitamin E - This plant based Vitamin E is easy for your skin to absorb helping to retain the natural moisture in your skin and is a powerful antioxidant.

Sweet Orange Essential Oil - This oil adds a refreshing zesty scent to the balm.
How to use

This balm is the perfect companion to your day, whether at the gym, in the office or on a hike, pop this balm in your bag and know you have a skin saviour for whenever you need it!

We love applying a thin layer to our cheeks to protect them from the wind, adding to the ends of our hair when we need a shine boost and smoothing onto hands and elbows when they are feeling dry.
View full details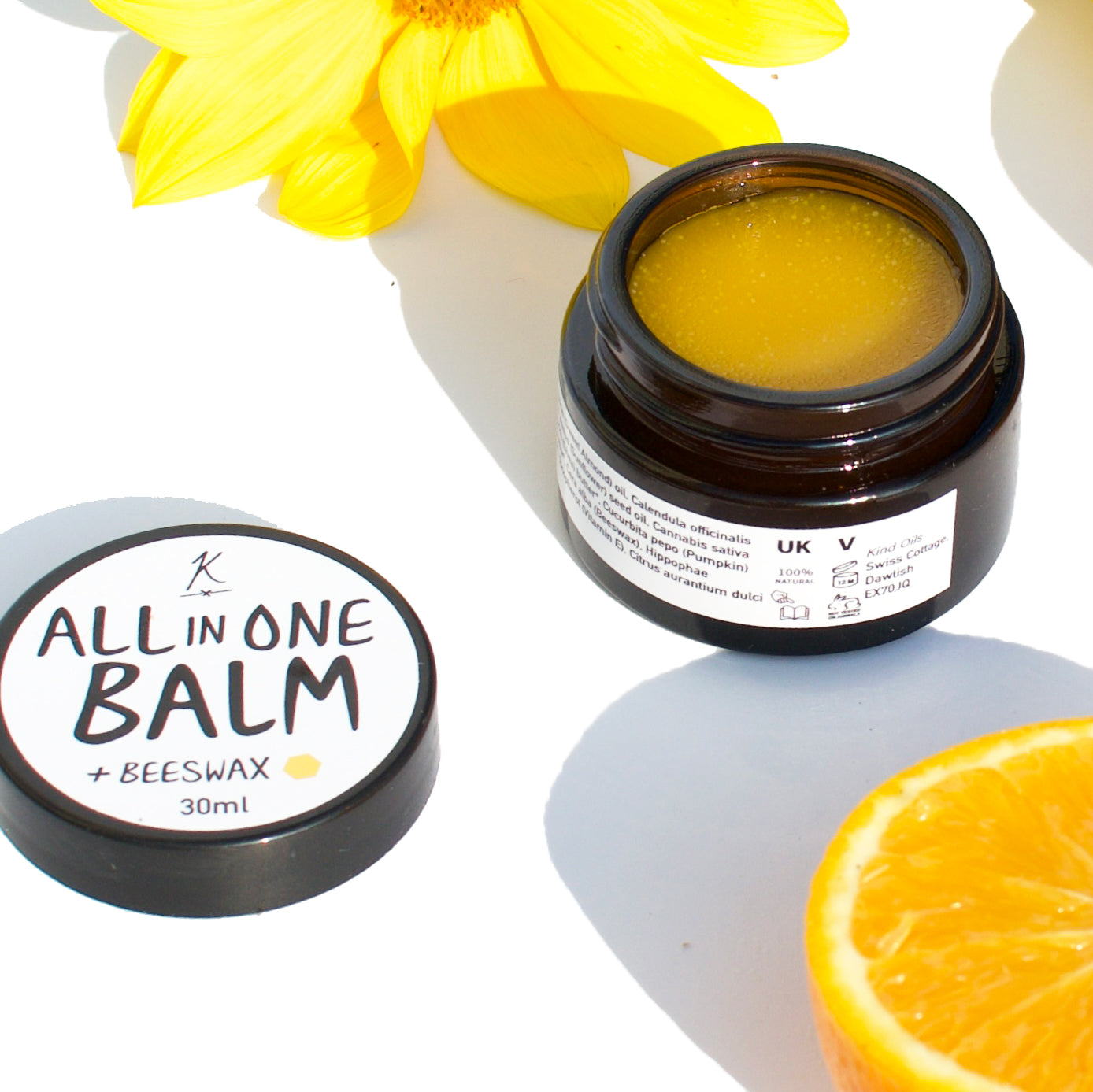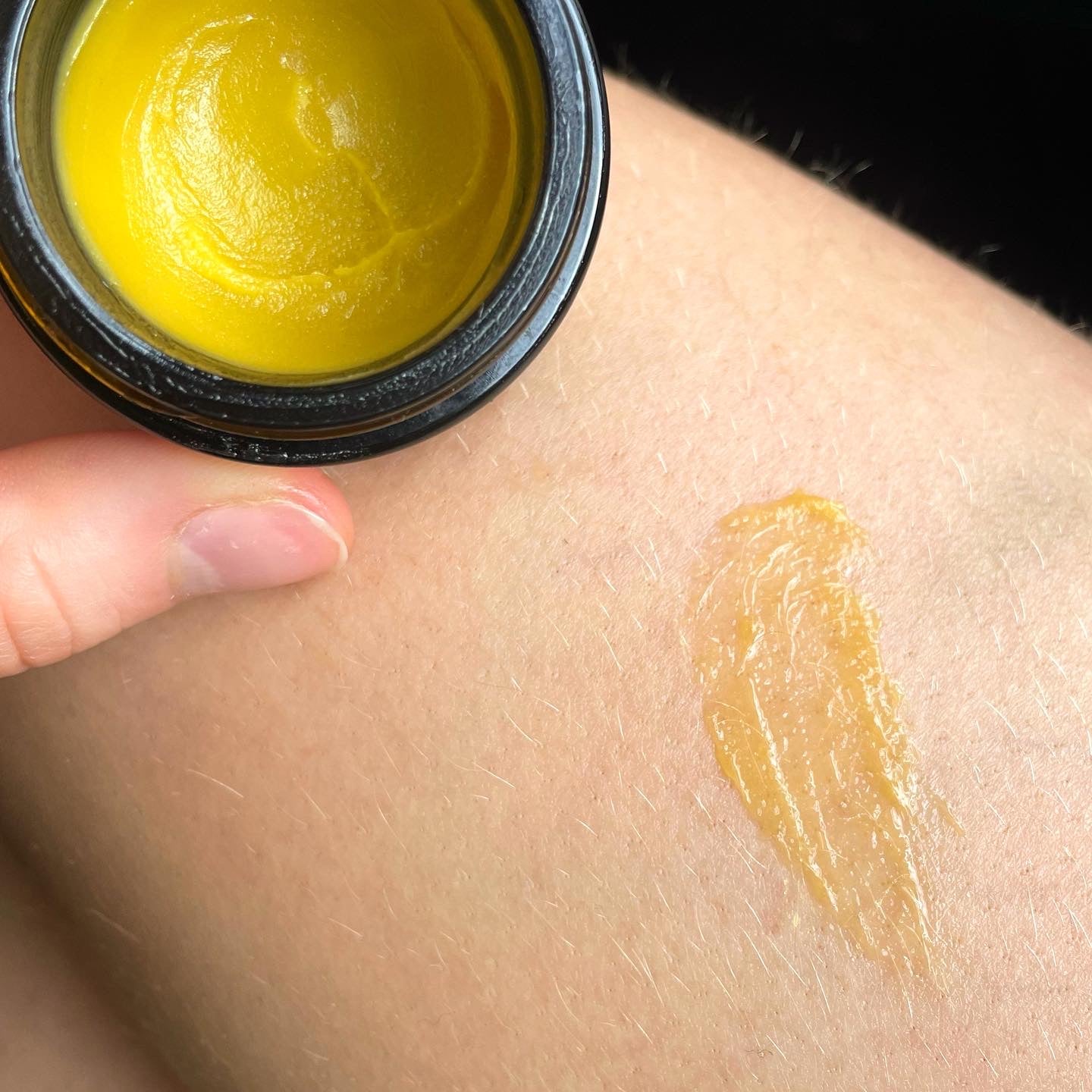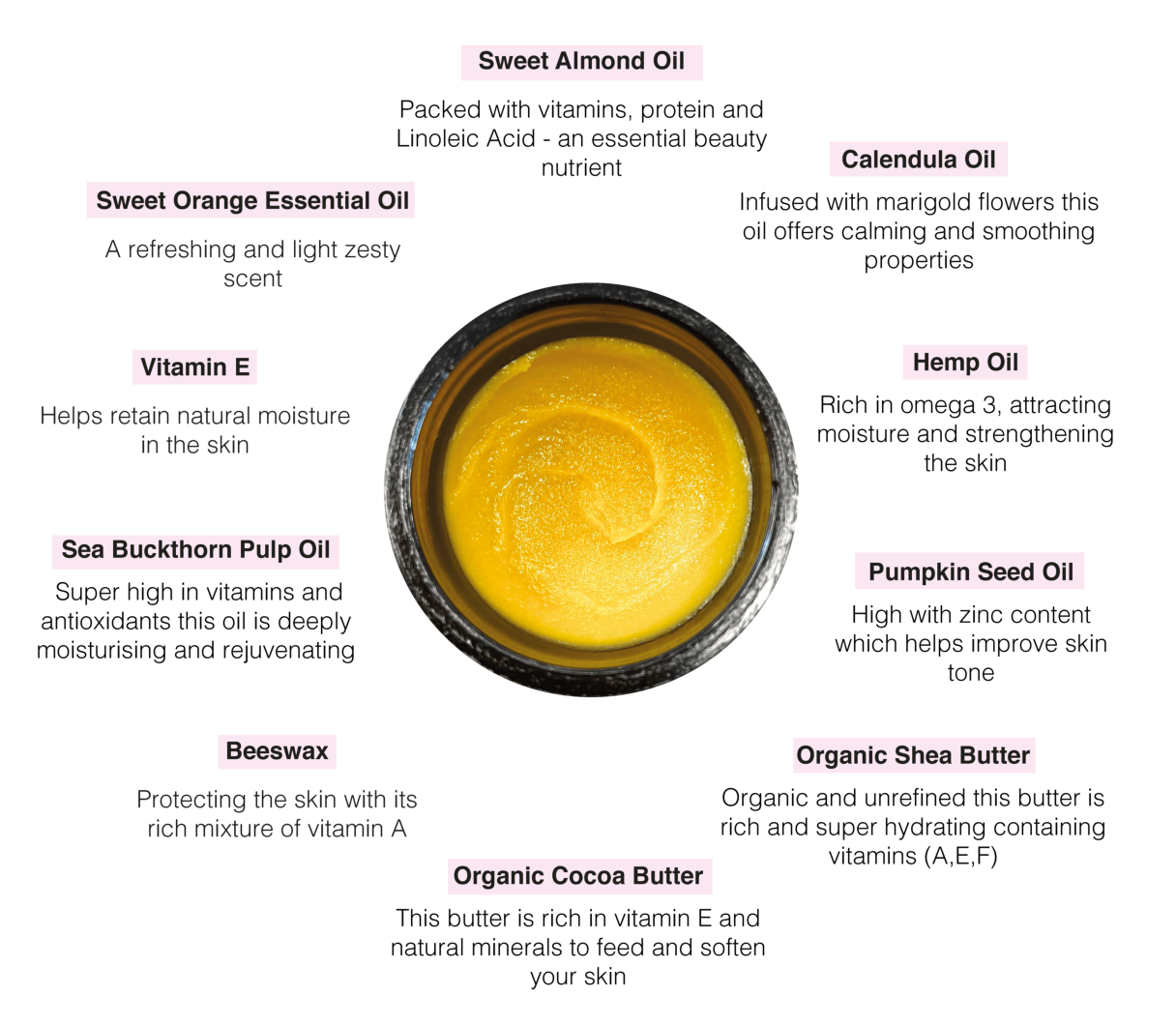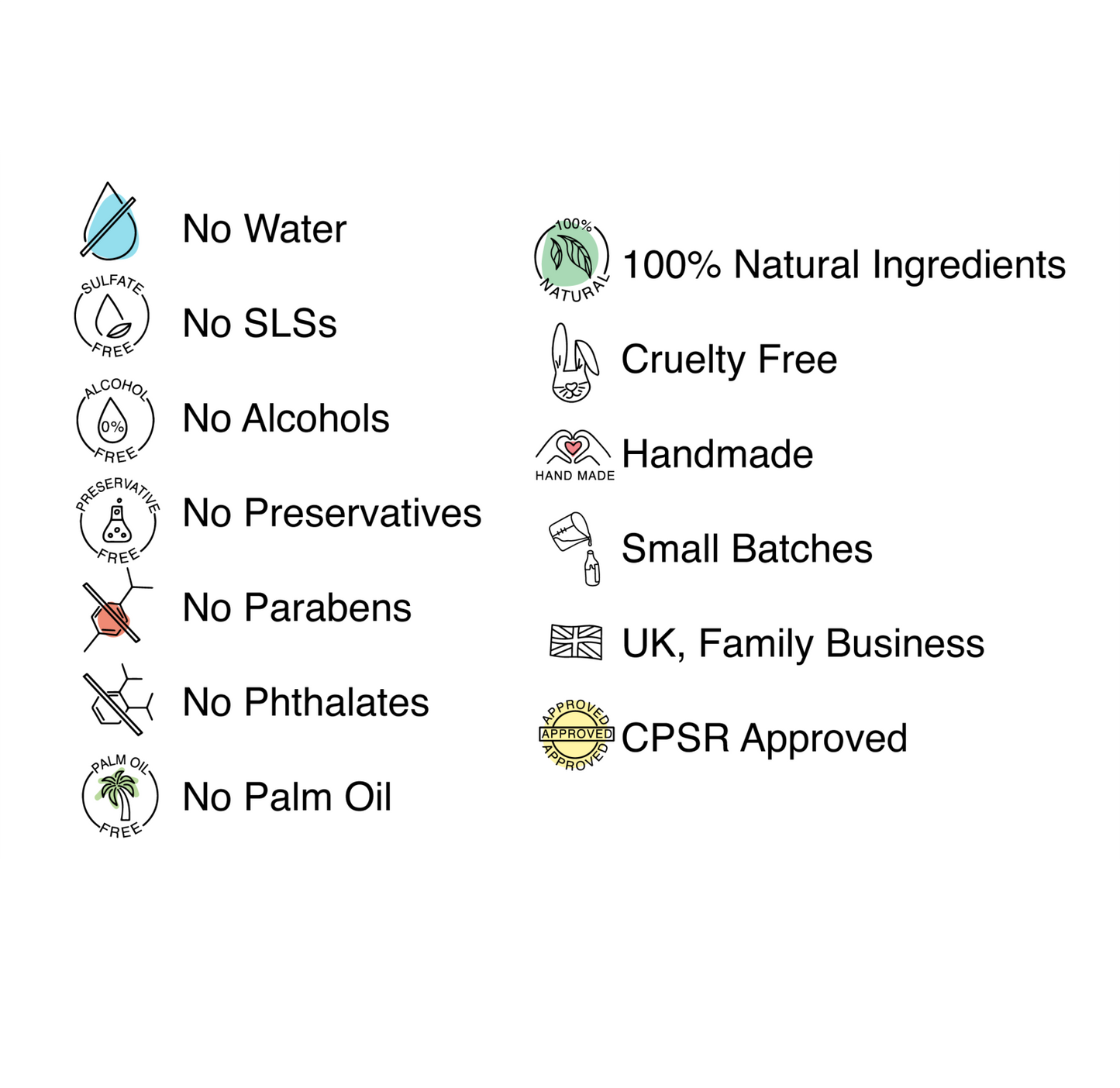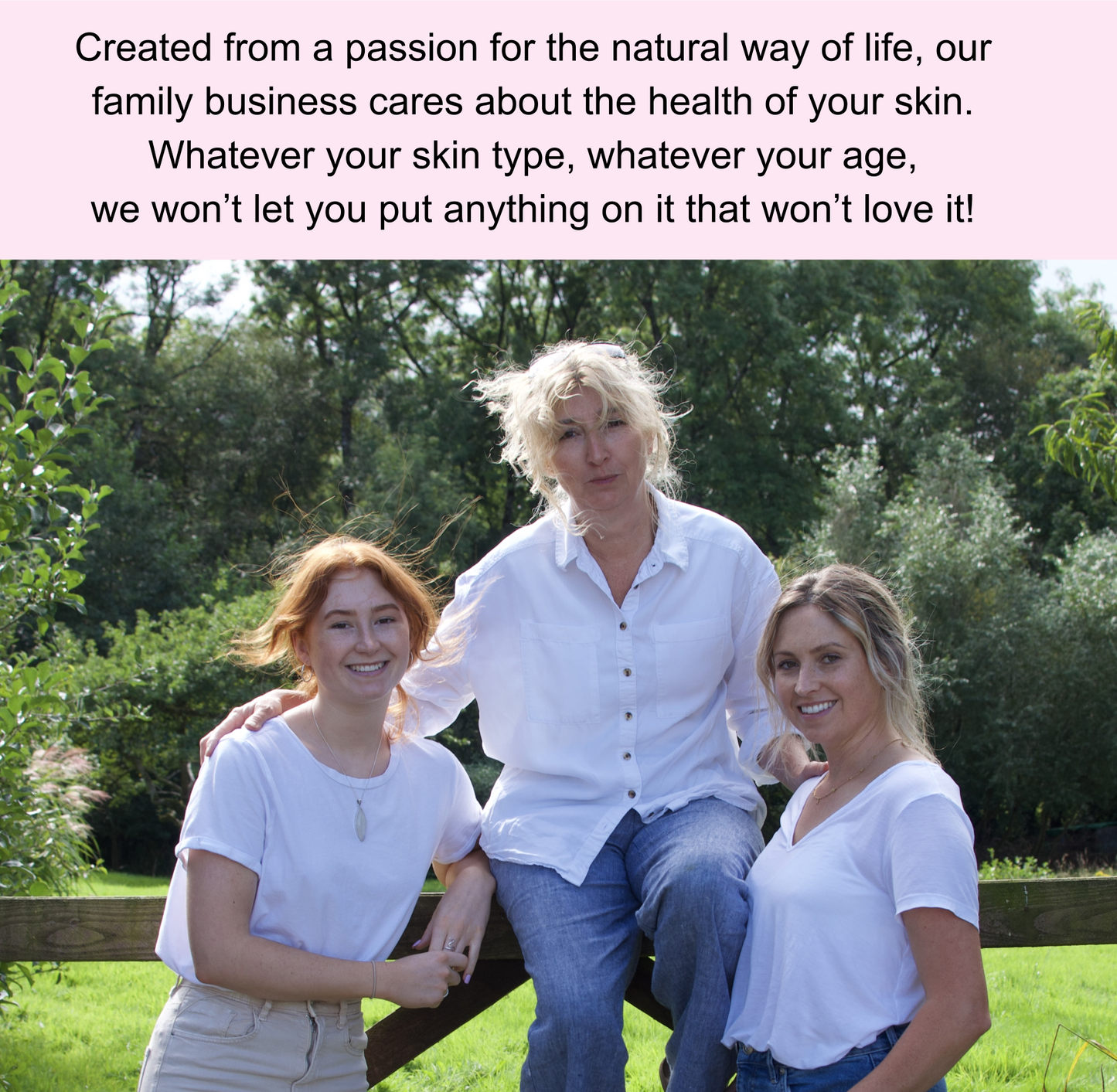 Super lovely balm
I think this is my 4th pot of rescue balm. I love it, it smells amazing and it really helps my skin if it's dry or feeling sensitive. Has also helped soothe my daughters eczema.
Fab balm plan to order some other products 😀
Amazing
I bought the all in one balm in addition to the acne/blemish skincare set. Although it has many uses I have primarily used it at the end of my skincare routine as a moisturiser - Not only does it give the skin a glowy appearance, it has single handedly help restore my moisture barrier as well as contributing to the reduced appearance and development of my acne. Can't recommend this product enough!
Pure goodness in a pot
I absolutely love this balm! As a carer, the constant hand washing dries my hands out, but a small amount of this balm brings back the softness and rehydrates them. It's always in my bag now, I wouldn't be without it! X
Not sure what's best for you?
Drop us a message telling us about your skin an we'll reccommend products for you!
kind-oils@outlook.com